The state-of-the-art line-haul push boat "Veerhaven IV" is the workplace Captain Eddy Poppema has been dreaming of since he was a boy – and his floating home for half the year.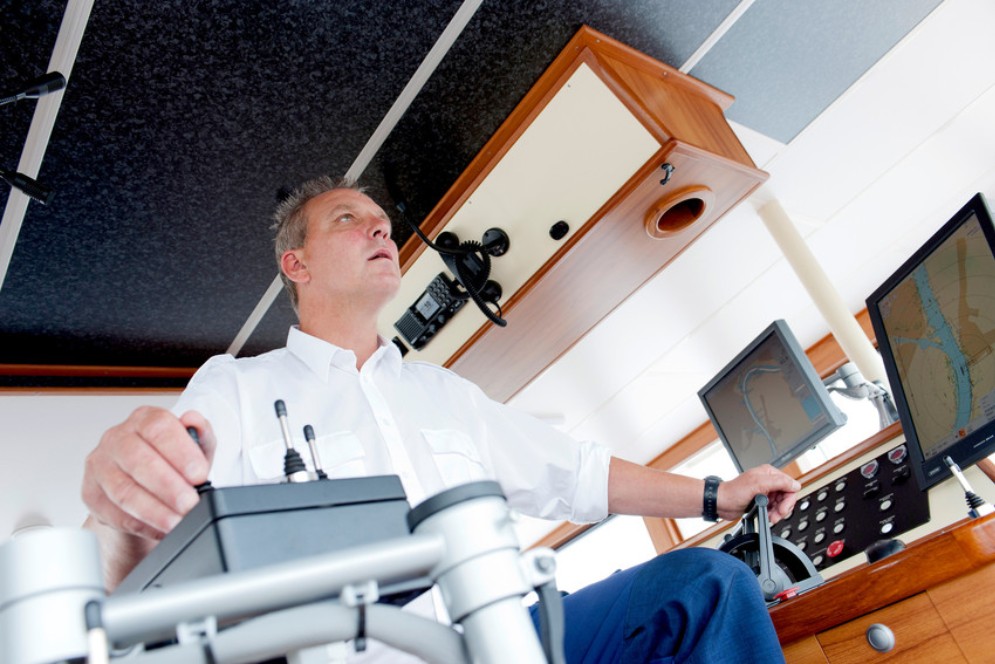 I moved onto a tanker ship soon after I was born in Millingen aan de Rijn. For the first four years of my life, the afterdeck, cabin and gangways were my world. Everyone is surprised when I tell them that, but it feels completely normal to me. I'm a water child and the ship was my family's first home. I can still remember when I was eight years old and my father, the captain, let me take the wheel for the first time. At his command, I was allowed to take control of the rudder in Düsseldorf harbor. Ever since then, my goal has been to become a ship's captain; it's simply in my blood.
Having said that, the wide open sea doesn't appeal to me. It has never been my dream to stand on the bridge of a cruise ship – I want to see land from on board. The Maas and the Rhine are my rivers and where I feel at home as the captain of an inland waterway vessel. My line-haul push boat, the orange, white and green "Veerhaven IV", is my second home. For two weeks every month, around the clock, shift after shift, my team and I travel back and forth between the ports of Rotterdam and Duisburg. We push the "Bakken" – that's what we call push barges in the Netherlands – in front of us, empty when traveling downstream or loaded with 16,000 tons of iron ore or coal for the blast furnaces of ThyssenKrupp when traveling upstream.
I have been working with the Veerhaven fleet for 23 years – initially as a helmsman and then as a captain from 2001. ThyssenKrupp Veerhaven is a great employer and I am proud of my job. I really enjoy being captain of the brand new "Veerhaven IV", also known as "Neushoorn" – which means "rhinoceros". It's an honor to be able to sail the most state-of-the-art ship and I'm sure some of my colleagues are a little envious. I also sailed the old "Veerhaven IV" – 4 seems to be my number. The new version is more eco-friendly and quieter though; it's also very well fitted out and comfortable from the mess room to the cabins, from the machine room to the helm. We have the best navigation equipment on board and, in addition to the standard rudder, we also have two bow thrusters, which allow optimum control and precision maneuvering when loading and unloading. And maneuvering is the best part of it all – it's always a challenge and mastering it every time is something I really enjoy. After all, I sail a 5,400 horsepower ship that can be up to 270 meters long with six Bakken in front of the bow in all weathers, day and night, at low and high water levels. When I'm standing on my own in the wheelhouse and maneuvering the ship, I need to get it right down to the millimeter. As I always say: You have to row with the oars you have. Of course, there are dangers. That's why the safety of crew and ship is my top priority. That's also something I try to instil in the young men I train.
I love life on board with my team, that's my world. Team spirit is incredibly important. After all, there's plenty of stress and a lot going on, calling for extreme concentration and high levels of physical exertion. Life is governed by work: After each six-hour shift, I have six hours off to eat, sleep and relax. We are all responsible for cooking and have to ensure that the ship is clean and tidy. That may sound like a lot of routine work, but it's never boring. No two days are the same. And isn't it great to wake up in a different place every morning? As much as I love to return to land after two weeks for my non-working shift and enjoy life with my family, I always look forward to getting back on the water. Being a captain is my vocation and wherever my ship goes, I go too.


More information: The new Veerhaven IV is ThyssenKrupp Veerhaven's most advanced ship. More information can be found on the internet at: www.veerhaven.com